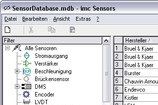 imc SENSORS is a ready-to-go, universal database application for administering and editing sensor information. Along with values for IEEE P 1451.4 (TEDS), selections of additional sensor properties can be freely entered. 
Sensor database using imc Plug & Measure technology 
imc SENSORS allows access to sensor information quickly and comprehensively and also offers the following:
Device-independent sensor administration
Verification of calibration data and monitoring of calibration intervals
Quick and reliable traceability of the calibration data per ISO900
Easy archiving of sensor data info
Complete parameterization of measurement channels when used with imc Plug & Measure-capable devices
Supports Smart Sensors with TEDS per IEEE P 1451.4
Along with values for smart sensors (TEDS) defined in IEEE P 1451.4, selections of additional sensor properties can be freely entered. The imc SENSORS database is precisely tailored to meet the needs of test and measurement engineers whatever the task: research and development, trials and testing, quality assurance, maintenance, etc. Furthermore, if the application requires constant changing and reconfiguration of test setups, this type of database saves a considerable amount of administrative burden. Also, this significantly shortens the tooling time and ensures reproducible and defined sensor connection.
Sensor management & simplification of measurement device setup 
imc SENSORS can be used measurement device-independent and also in conjunction with Plug & Measure-capable devices. In addition to the sensor data, complete parameterization of the measurement system can be entered. The parameters are then set automatically. This reduces setup time and provides a reproducible and secure sensor connection.