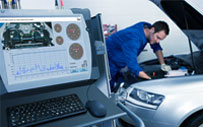 imc STUDIO offers a complete test and measurement workflow environment with an emphasis on productivity in measurement configuration and test development. From quick and simple data acquisition tasks, to fully automated combined analysis and control system with automation, imc STUDIO is built with over 20 years of experience, with one goal in mind: improve your testing productivity.
imc STUDIO provides both the broad functionality of a general purpose test and measurement tool, and the pinpoint precision of a customized, integrated data acquisition and control solution - all within the same software environment. When used with any of the imc measurement and control platform-based systems, imc STUDIO allows you to capture, process and visualize any combination of analog and digital signals; perform tests that last just a second, or an entire year; perform open- and closed-loop control; and even integrate existing automation and simulation environments.
Configure & Measure
With imc STUDIO, you are ready to start your measurement in a few minutes. A clearly organized channel configuration list, extensive sorting and filtering functions, numerous assistants, built-in sensor management and support of TEDS are just some of the useful functions for achieving quick, intuitive system configuration.
Selection of measurement system(s) and configuration of all hardware specific settings
Table displays for greater clarity and simplicity
Multi-selections, as well as copy and paste of channel configurations
Search and filter functions
Step by step to your destination with the configuration wizard
Simple channel configuration with direct access to the imc Sensor data base
Drag & drop Sensor selection
TEDS compatibleFieldbus assistant for busses such as CAN, LIN, ARINC or associated protocols
imc Online FAMOS — special assistants providing the option for real-time calculations

Data Display & System Operation
With just a few mouse clicks, you can design tailor-made user interfaces with the imc STUDIO Panel, and link them to the system's inputs and outputs. Choose from over 100 predefined instrument templates and elements (widgets) to create your own personal test and measurement interface.


Use of pre-defined templates for easy visualization
Placement of input and output elements
"Widgets" per drag & drop: library of more than 100 pre-defined Widgets
Real-time data & video display
2D and 3D data arrangement in imc Curve Window
User interface panel and/or a dynamic test report
Export & snapshot displays as graphics or PDF
Replay function of combined data and video recording
Navigation bar to manually reach every point while replaying data

Automating Routine Tasks
Save time by automating routine measurement processes using imc STUDIO. Use the drag & drop technique to create your own personal test sequence by selecting from a wide variety of functions – such as channel balancing, entering test object data, starting measurements, saving data, running analyses and printing out a report. That's it!
Step by step configuration of test sequences
Automatically plays individual test steps
Drag & drop configuration
Quick results through set-up design — no programming skills necessary
Comprehensive capabilities — from setting start variables and parameters to automated data evaluation and report creation

Recording & Playback of Videos
imc STUDIO Video addresses the increasing demand to combine and synchronize conventional measurement data with video capture. Simply connect a video camera, and imc STUDIO will take care of the rest. Like any measurement channel, the video channel is automatically synchronized, and offers pre- and post-triggering, versatile storage options and a replay function.


Time synchronous video and data acquisition
Video channel setup similar to measurement channel setup
Trigger and long-term measurements possible
Pre-trigger for pre-event video recordings
Up to 4 synchronous video channels
Separate record- and monitor-channel per camera
Synchronized replay in imc STUDIO Panel and imc FAMOS

Easy Test Stand Automation
Let control of the test environment be an integral part of your measurement application! When testing components, imc STUDIO not only measures the performance of the test object, but also allows you to integrate real-time automation and control for your test station - without programming one line of code. You simply define a state oriented test process and use drag & drop to insert ready-made functions for specifying target values, actuator profiles, control logic and even multi-variable closed-loop control systems.


Unique state-based control structure
Interacts with imc Hardware to assure time determination
Open- and closed-loop control
Parallel synchronous and/or asynchronous measurement and control tasks
Cycle time down to 0.1ms
Real-time interrupts
Real-time limit/alarm evaluation