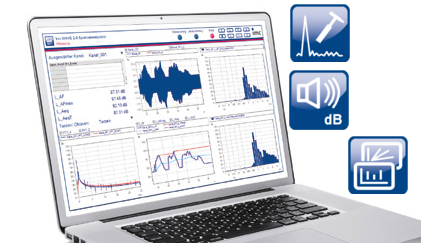 Software for Sound and Vibration Analysis with imc Measurement Systems. Designed to do Modal Analysis, Rotating Machinery and Sound & Vibration Measurements
imc WAVE is the ideal platform for testing in accordance with the standards, as well as in development environments that aim towards improving comfort and optimising functionality.
imc Wave is compatible with most of the measurement and data acquisition systems from imc Meßsysteme GmbH-- even old systems can be updated with new firmware to deploy imc Wave Analysis Suite
With imc WAVE, you are provided with a powerful software platform for noise and vibration analysis. Various analysers cover a wide range of applications: from acoustical inspections during road tests, structural analyses on the test bench, up to vibration testing.
Quickly and easily solve a wide variety of tasks in sound and vibration analysis. The well guided work flow will lead you step by step through the parameter settings for your specific application. From the device configuration through the microphone calibration procedure up to starting the measurement, imc WAVE offers a simple operating concept.
imc Wave provides the following modules for comprehensive noise and vibration requirements: