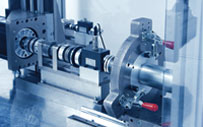 Whether we're talking about a development test stand, an End of line electric motor test stand or the testing of components—today's test stand measurement systems must be able to quickly integrate, be extremely efficient and remain flexible.
Our many years of expertise in test stand construction, as well as our industry-specific knowledge, make us a strong partner.
Our measurement systems offer you the possibility to directly connect and synchronize with any analog or digital signal or sensor. Measurement data from bus systems can also be recorded synchronously and processed. For communication with other test stand operations, a variety of interfaces are available, such as:
Ethernet
EtherCAT
CAN-Bus
Profibus
A modular system architecture and the possibility to network multiple systems together gives you the flexibility you need.
Our experience in designing and creating test stand applications can offer you comprehensive solutions to complete your test stand task—from consulting to on-site service and all steps in between. Not only our own measurement systems, we can integrate variety of third party data acquisition systems or data loggers for your measurement needs. We are ready to help you with:
Advising/consulting
Requirement and performance specifications
Evaluate test stand concepts and designs
Modernization (control, regulation, technology)
Programming services & system integration
Coaching/training
On-site service (maintenance, calibration, etc.)