Weigh In Motion (WIM) systems are employed at an increasing rate throughout the world for coping with the dramatically rising costs for maintaining the traffic infrastructure, and safety of the road users. Accurate vehicle load data are vital for ensuring that highway systems remain intact and safe.
Continuous overload detection is an important means for restraining overloading operators, often more efficient than punctual enforcement actions. In view of traffic engineering WIM data are useful to improve heavy traffic efficiency by weight-dependent speed or detour route selection, as well as for protection of limited weight bridges and roads. Furthermore, WIM data can be used to predict future traffic volumes for planning and new construction, for the management of maintenance activities, as well as to identify locations or carriers with frequent overloading problems.
Sensors
We utilize variety of sensors from major sensor manufacturers in our WIM systems
Inductive Loops 
Inductive loops define the vehicle entry and exit from the WIM station. These signals are used as triggering inputs to start and stop the measurement to initiate totaling gross vehicle weight of each vehicle. For toll gate or low speed application, inductive loops may be replaced with other types of vehicle sensors such as light curtains, axle sensors or piezocables. 
Measurement System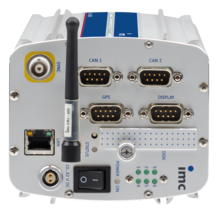 Highly dynamic measurement system from imc Meßsysteme GmbH is programmed to perform the calculations of the following parameters:
Axle distances

Individual axle weights

Gross Vehicle Weight 

Vehicle Speed

Distance between vehicles

GPS synchronized time stamp of measurement for each vehicle
All these parameters are calculated on the device itself and the device is designed to operate without a computer attached to it.  The data for each vehicle are stored on the removable Flash drive on the device.
One measurement system can be connected with up to 4 traffic lanes (8 WIM Sensors and 8 Inductive Loops) simultaneously, and process the data for each lane independently. 
The measurement system is environmentally protected and has operating temperature of -20 to +85° C. The measurement systems are also designed to withstand condensation.
Communications
Variety of communication methods are installed on the measurement system, with TCP/IP being the default communication mode. Normal Modem or Cellular Modem can be provided upon request. If no communication infrastructure exists, WIM system can be self-operating while saving the data, to later physically retrieve it.
Data Archiving
Optionally, a WIM system connected with any available bandwidth can be connected to a central monitoring server. We provide an automatic data archiving software to retrieve the data from many remote WIM stations to be available for any further processing. A central database can be build to link many WIM to a server for variety of monitoring and enforcement purposes.
Features not available elsewhere:
Self-start—once the system acquires power, measurement is started without user intervention.

Extended Temperature & Humidity—enables road side installation in extreme humidity conditions.

Remote Operation—automatic data transfer and archiving, making the system completely independent.

Multi-triggering—independent nested triggers make it possible to calculate each lane data independently from the next.

GPS—Time stamp on the data is very important to keep track of the vehicle data with Traffic Camera systems.

Onboard DSP—Extremely fast calculations with nested loops make it possible to do the complicated calculations real time as each vehicle pass by—without Computer at site.