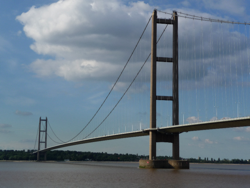 Structural Health and Response Monitoring is an innovative method of monitoring structural status and performance without otherwise affecting the structure itself. Structural Health and Response Monitoring utilize several types of sensors embedded in, or attached to a structure to monitor performance criteria as well as identify and verify structural behavior.

Remote Strong Motion Monitoring Station for Dam, completely self contained with solar power supply and communication system
Why Structural Health and Response Monitoring?
The strength and serviceability of a structure can be considerably – even terminally – reduced by natural or human-made events, earthquakes, increased levels of use, uncontrolled structural changes and various other influences.
Utilising Structural Health and Response Monitoring systems, timely notifications about any potential problems can be generated and behaviour of the structure can be monitored. The emerging use of Structural Health and Response Monitoring especially in the last decade, is a result of the increasing need for the monitoring of innovative designs and materials as well as a better management of existing structures. This is further enhanced by the ongoing development and sophistication of sensors, data acquisition systems, wireless and internet technologies and other advances in technology.
Inside of the remote Strong Motion Monitoring Station 
In the past we have seen catastrophic structural failures such as the famous collapse of the Tacoma Bridge in 1940, (Tacoma, WA, USA); the collapse of the Historical Archive of the City of Cologne, (Germany), in 2009, or the tragic 1995 Sampoong Department Store collapse in Seoul, (South Korea). Events such as these drastically show how vulnerable infrastructure can be if exposed to conditions like wind (Tacoma), ground deformation (Cologne) or overload (Seoul).
The factors that eventually lead to failure can be measured with GeoSIG Structural Health and Response Monitoring systems, as well as their severity and effect on the structure.


Which structures need to be monitored?
The following are the examples of structures where monitoring system will enhance the safety, optimize cost of operation and lengthen the useful life:

1. Vast and enormous structures, where structural integrity is key operational and safety requirements, and any damage will have disastrous effect for the population. Example: Dams, High rise buildings, slopes, hillsides etc.

2. Historical/Architectural monuments.

3. Onshore/Offshore oil & gas production platforms and power generation facilities, where structural stability is required for operation.

4. Important infrastructures, where any slightest structural issues must be addressed in timely manner for continuous operation. Example: Bridges, Tunnels etc.

5. Structures that house expensive and revenue generating equipment. Example: Telco towers, Radar arrays, Huge Telescopes etc.
What are the advantages of Structural Health and Response Monitoring?
Structural Health and Response Monitoring systems not only help reducing risks and costs, but also help avoiding disaster by its notifications which allows to initiate early damage detection and therefore helps saving lives as well as assets.
In addition, in case of any evacuation of the structure due to a transient event (such as an earthquake), the system allows to rapidly evaluate the structural response thus provides a highly useful measure for decision making whether to allow the occupants back in or to initiate a more comprehensive inspection before doing so.
The ideal Structural Health and Response Monitoring system provides you with on-demand information about your structure's measured features, as well as warnings concerning any exceedance detected. Therefore Structural Health and Response Monitoring also significantly reduces repair costs through early damage detection, making the monitored structure safer and increasing the cost efficiency of its maintenance.
Structural Health and Response Monitoring can significantly reduce insurance premiums for those operating - or in charge of - the safety of infrastructure such as bridges, railways or tunnels.
Other advantages of Structural Health and Response Monitoring include:
Increased understanding of in-situ structural behavior
Assurance of structural serviceability
Increased down-time for inspection and repair Development of rational maintenance/management strategies
Increased value of the assets when compared to non-monitored properties
Increased effectiveness in allocation of scarce resources.
Additionally Structural Health and Response Monitoring enables and encourages the reliable use of new and innovative materials and designs in both architecture and engineering.
How does Structural Health and Response Monitoring work?
Each structure is unique, therefore the monitoring system that must be applied is also singular. In close cooperation with the owner/contractor, we deliver tailor-made Structural Health and Response Monitoring systems for each project.
Trigger levels for issuing warning signals (when previously defined values are exceeded) will be set according to its particular properties and capabilities, with reference to design, resistance, durability and stability.
Our Structural Health and Response Monitoring solutions allow for the application of two major methods:
Baseline versus Measurement
Design versus Measurement
Various types of sensors are attached to - or embedded in the structure itself. These devices collect raw data (accelerations, deformation/strain, and temperature among others) and transfer it to a Data Acquisition System (DAS). From the DAS, the data is collected and sampled. It can then be transmitted to an offsite location or stored locally for automatic, intelligent processing. The reliable level of remote monitoring eliminates the need for site visits. The system allows for tools to remove mundane data, noise, thermal, or other unwanted effects before storage, and to make data interpretation easier, faster and more accurate. Diagnostics convert abstract data signals into useful information about the structural response and condition.
Detailed state of the art and customisable data analyses are then used to enable reliable alerts and notifications in terms of email, SMS or visual and audible alarms. They even can be provided as automated relays to turn on or off desired machinery, elevators, gas, electricity and so on. The results are automatically documented in customisable reports and can be automatically printed or transmitted to various recipients to enable rational, knowledge-based engineering decisions.
In essence, the variety of measurement, data acquisition and interpretation as well as notification and reporting techniques utilised by GeoSIG Structural Health and Response Monitoring systems create "intelligent structures" that are safer, long-lasting, more secure, and cheaper to operate, maintain and insure.
Our Solutions for Structural Health and Response Monitoring
GMSplus is the ground breaking latest generation of the GeoSIG Measuring Systems with highest performance, excellent operational flexibility and enhanced connectivity.
CR-6 Multichannel Central Recording System
CR-6 is a modern modular multichannel central monitoring and recording system providing engineers with a valuable tool to fully understand and analyse the dynamics of structures in the operating environment.
AC-73 True Force Balance Accelerometer
The AC-73 sensor package is a true electro-mechanical triaxial accelerometer designed for broadband earthquake monitoring and applications requiring highly sensitive and rugged sensors with minimum maintenance and a simple method for periodic testing.
GeoDAS is a graphical Microsoft Windows-based application providing the most comprehensive, intuitive and versatile features available in the earthquake, seismic, structural, dynamic and static monitoring and measuring industry.